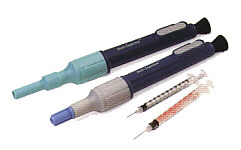 Scared of the scalpel ? Does your age, or an unrelated medical problem, prevent you from undergoing surgery ? Don't worry - surgical intervention is not the only treatment option for impotence.

everal articles on andrology carried by this site, make it clear that more and more cases of impotence result from bodily (organic) causes rather than psychological (functional) ones.

These causes are diagnosed using special investigative modalities. Treatment is based on the results of these investigations.

Many patients are afraid to undergo surgical operations for impotence...

Some of the treatment options available have also been discussed in other articles. Medical therapy (oral drugs) has revolutionized the treatment of impotence. Since Pfizer launched Viagra in Mar-Apr 1998, the management of impotence (E.D.) has changed dramatically. Today, oral drugs viz. Viagra, Levitra, Uprima, and Cialis have taken over the first line management of this condition. These drugs are effective in 65 % to 70 % of cases (on an average) and are, for the most part, very safe too. It is only in the remainder, and those in whom the drugs are contraindicated (cannot be given) or cause intolerable side effects, that other treatment options have to be considered.

Many patients are afraid to undergo operation for impotence, especially in a country like India, where men generally give up sexual expectations of themselves in the fifth or sixth decade of life.

This is in sharp contrast to the Western world, where, because of better overall health, greater life expectancy and a higher divorce-remarriage rate, men are sexually active (or are under pressure to be) even in the seventh and eight decades of life.

What, then, are the non-operative non-surgical treatment options in impotence?

The two more commonly advocated non-operative treatment options in impotence are self-injection therapy and the vacuum device.

Self-injection involves educating a patient to inject into his penis, by himself, certain erection-producing substances. Such substances are called PIPE (Pharmacologic Inductors of Penile Erection). The commonly (nowadays uncommonly) used injection drugs are prostaglandin E1, papaverine, phentolamine, and various combinations of these agents.

These are vaso-active compounds which relax the smooth muscle of the corpora cavernosa (erectile tissue of the penis) and increase the blood flow to the organ, thus resulting in an erection. This erection lasts for a few hours and allows the patient to engage in sexual intercourse during this time. Of course, this means that each erection requires one injection.

Also, these injections are painful. Besides, long-term usage can cause irreversible damage to the cavernosal tissues of the penis. For these reasons, though effective, this treatment option is not preferred by many. In recent years, in an endeavor to circumvent the complications of injections, alternative routes for administering drugs into the erectile tissues have been explored - trans-urethral (through the urinary passage) and trans-dermal (through the skin) being the more popular.

Vacuum therapy is the other non-operative treatment option for impotence. This treatment consists of the placement of a hollow cylinder around the shaft of the penis.

This cylinder is connected to an outlet which can create negative pressure in the cylinder by means of either a manually-operated or battery-operated pump. The negative pressure produces an erection which can be retained by means of special tension rings for as long as 30 minutes (generally sufficient for even the most demanding of partners !!)

Being totally non-invasive (no needle pricks, incisions or extraneous drugs), such a device is remarkably free of side effects. Of course, it is very important that a good brand should be chosen.

Sub-standard devices can cause harm to the delicate tissues of the penis in various ways including hematomas, skin damage, vascular damage because of poor tension ring quality, allergic reactions because of substitution with poor quality plastic cylinders (most quality devices are made of high-grade Lexan) etc.. One should therefore be careful about the device chosen or prescribed.

The concept of using a vacuum to produce an erection was first introduced by an American gentleman named Geddings Osbon. Geddings Osbon himself suffered from impotence.

The first vacuum device itself was a runaway success...

At that time, little was known about organic factors in impotence and treatment was either unavailable or frustrating. People still thought that all impotence was psychological. Osbon was thus forced to invent out of necessity and pioneered the first vacuum device. The ingenious device was a runaway success. Since then, several modifications in design have been made and thousands the world over have benefited from this device already.

Learning to use the vacuum device requires patience and practice. Once mastered, it can be used to obtain an erection within minutes. Long-term use of this device has actually been shown to improve blood flow to the penis in patients with impaired flow.

Over a period of time, therefore, it is possible that a man may be able to regain his `original' spontaneous erectile ability and dispense with the vacuum device altogether.

Each year, thousands of vacuum devices are sold, and help to cure impotence

The vacuum device can be employed in patients with impotence resulting from a wide variety of causes. It is thus useful in diabetics, hypertensives, patients with drug or substance-abuse related impotence, hypercholesterolemia, hypertriglyceridemia, neurogenic impotence etc. It is useful to note that even patients with psychogenic impotence can derive considerable benefit form the use of the vacuum device. The overall success rate exceeds 90%.

As health care systems all around begin to improve, life expectancy increases and people live longer without major health problems. Sexual well-being of the individual thus constitutes an important aspect of overall health care. In 1994, the World Health Organization recognized sexual and reproductive health as a fundamental right. In May, 1999, the First International Consultation on Erectile Dysfunction, which was co-sponsored by the WHO, was held in Paris.

Impotence is a very common disorder, especially among the elderly, and affects at least 10-15% (conservative estimate) of all adult males. Old age is no bar to good sex and a man is entitled to a good sex life for as long as his mind is desirous.

A few years ago, it was thought that surgery was the main treatment option in organic impotence. More recently, however, non-operative methods, especially oral drugs, have proved their efficacy in the treatment of this condition and must be tried before resorting to the more invasive methods.